U.S. Metros Growth Map
Infographic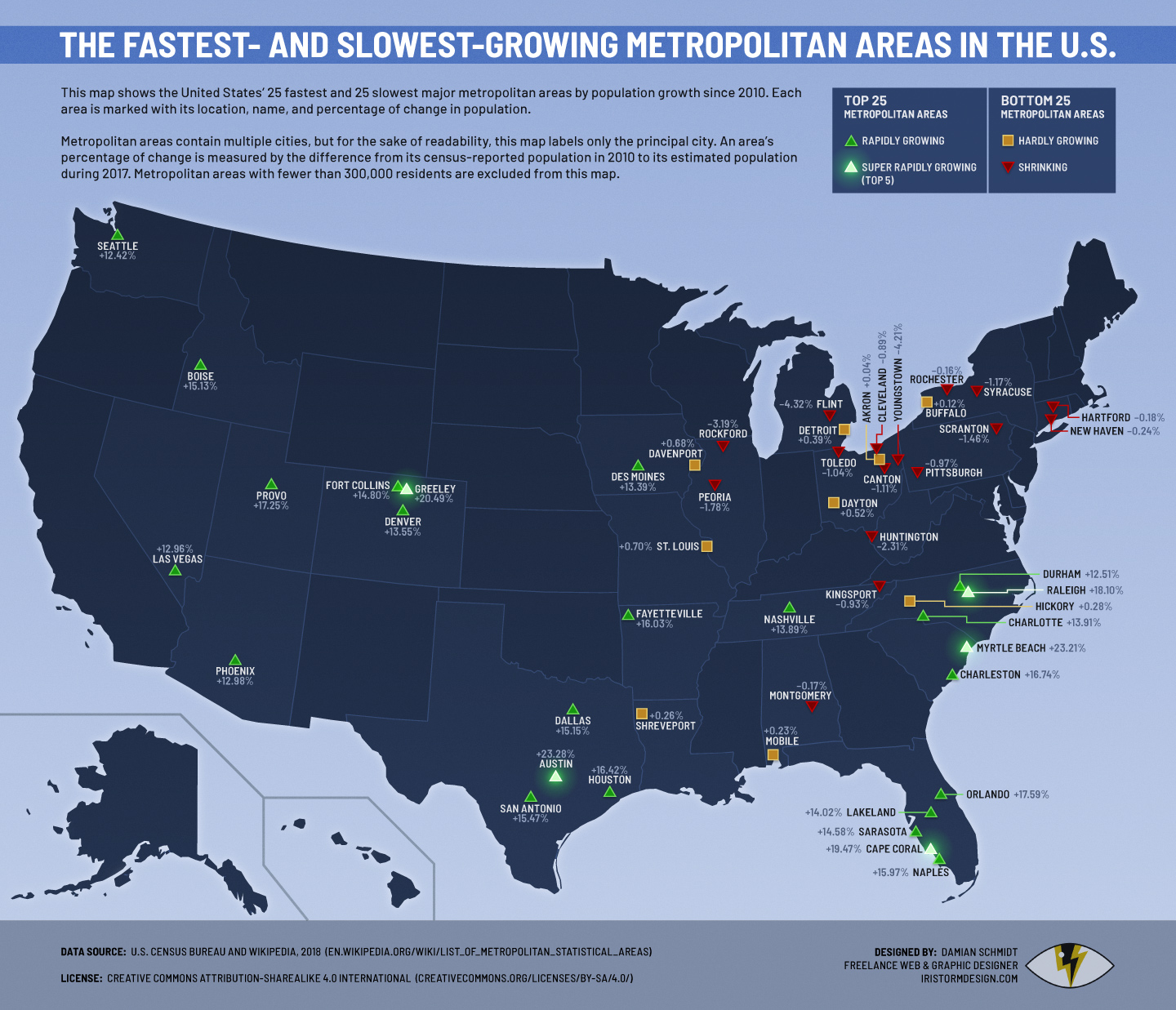 I designed an infographic titled "The Fastest- and Slowest-Growing Metropolitan Areas in the U.S."
Graphic Design
I created the infographic in Adobe Illustrator. I got the basic map shape of the United States from Wikimedia Commons, and the rest I created myself. The fonts used are "Barlow" and "Barlow Semi Condensed."
As shown in the map's legend, there are four types of map location markers to indicate a metropolitan area's level of population growth. I designed the markers using the typical "traffic light" color scheme (green for positive and red for negative). However, I wanted the infographic to be accessible to colorblind people, so I designed the four types of map markers to be distinguishable by shape and brightness in addition to hue.
I put in a color gradient on the infographic's background for a little visual interest. The gradient goes from a medium blue at the top to a lighter blue at the bottom, suggesting the southern area of the map has more sunlight and a warmer climate—which are probably the reasons for all the rapidly growing cities in the "sun belt" states. A side effect of applying color gradients in Illustrator is that it causes a strange color banding effect. To conceal it, I put in a subtle grainy texture I created in Adobe Photoshop underneath the gradient layer.
There are some states, particularly Ohio and North Carolina, that have several location markers clustered together on this map, which made it difficult for me to find room for inserting the name and percentage labels by each marker. The solution I eventually figured out was to put the labels outside the map and have lines pointing to the location markers, sometimes rotating the labels by 90 degrees for more horizontal space.
Data
The source I used for the infographic was the Wikipedia article "List of metropolitan statistical areas," which in turn is based on data from the U.S. Census Bureau. The Wikipedia article additionally provided the percentages of change in population for each metropolitan area.
I excluded metropolitan areas with populations smaller than 300,000, because otherwise the map would be filled with too many small cities that are unfamiliar or unimportant to most people. Small cities are over-sensitive to population changes as well, which makes their population changes less impressive than the changes in larger cities.
Here are the two top-25 lists used in the map:
FASTEST-Growing Metropolitan Areas
Austin–Round Rock, TX (+23.28%)
Myrtle Beach–Conway–North Myrtle Beach, SC (+23.21%)
Greeley, CO (+20.49%)
Cape Coral–Fort Myers, FL (+19.47%)
Raleigh–Cary, NC (+18.10%)
Orlando–Kissimmee–Sanford, FL (+17.59%)
Provo–Orem, UT (+17.25%)
Charleston–North Charleston, SC (+16.74%)
Houston–The Woodlands–Sugar Land, TX (+16.42%)
Fayetteville–Springdale–Rogers, AR–MO (+16.03%)
Naples, FL (+15.97%)
San Antonio–New Braunfels, TX (+15.47%)
Dallas–Fort Worth–Arlington, TX (+15.15%)
Boise City–Nampa, ID (+15.13%)
Fort Collins, CO (+14.80%)
North Port–Sarasota–Bradenton [Sarasota County], FL (+14.58%)
Lakeland–Winter Haven, FL (+14.02%)
Charlotte–Concord–Gastonia, NC–SC (+13.91%)
Nashville, TN (+13.89%)
Denver–Aurora–Lakewood, CO (+13.55%)
Des Moines–West Des Moines, IA (+13.39%)
Phoenix–Mesa–Scottsdale, AZ (+12.98%)
Las Vegas–Henderson–Paradise, NV (+12.96%)
Durham–Chapel Hill, NC (+12.51%)
Seattle–Tacoma–Bellevue, WA (+12.42%)
SLOWEST-Growing Metropolitan Areas
Flint, MI (−4.32%)
Youngstown–Warren–Boardman, OH (−4.21%)
Rockford, IL (−3.19%)
Huntington–Ashland, WV–KY–OH (−2.31%)
Peoria, IL (−1.78%)
Scranton–Wilkes-Barre–Hazleton, PA (−1.46%)
Syracuse, NY (−1.17%)
Canton–Massillon, OH (−1.11%)
Toledo, OH (−1.04%)
Pittsburgh, PA (−0.97%)
Kingsport–Bristol–Bristol, TN–VA (−0.93%)
Cleveland–Elyria, OH (−0.89%)
New Haven–Milford, CT (−0.24%)
Hartford–West Hartford–East Hartford, CT (−0.18%)
Montgomery, AL (−0.17%)
Rochester, NY (−0.16%)
Akron, OH (+0.04)
Buffalo–Cheektowaga–Niagara Falls, NY (+0.12%)
Mobile, AL (+0.23%)
Shreveport–Bossier City, LA (+0.26%)
Hickory–Lenoir–Morganton, NC (+0.28%)
Detroit–Warren–Dearborn, MI (+0.39%)
Dayton, OH (+0.52%)
Davenport–Moline–Rock Island, IA–IL (+0.68%)
St. Louis, MO–IL (+0.70%)
Take a Look
View the "Fastest- and Slowest-Growing Metropolitan Areas in the U.S." infographic (1,440 × 1,237 px image).
Similar Projects
Read about other map-based projects I created.
To read about another America-themed graphic design project I worked on, see Patriotic Underwear Guy on Giant Bald Eagle.