ScoreOS
Graphical user interface for app
ScoreOS is an app that lets you operate and display virtualized scoreboards for various kinds of sports. I designed and partly developed multiple styles of scoreboards and other things for ScoreOS.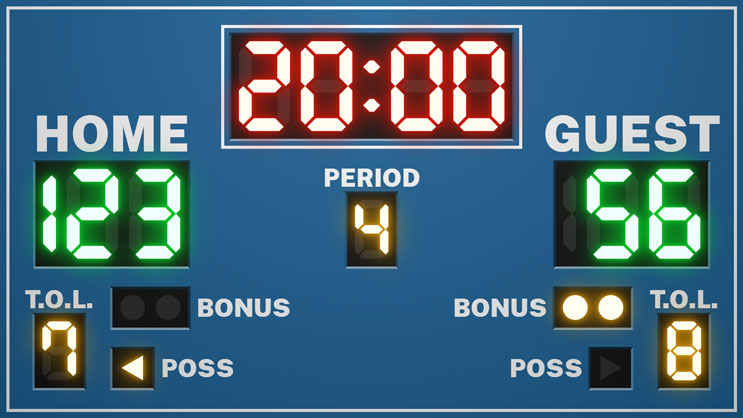 My client for this project is Sportable Scoreboards. Traditionally they've manufactured only physical scoreboards, but now with the introduction of ScoreOS, they're getting into purely digital ones too. The company chose to hire me because I have the combination of skills in graphic design and front-end web development that are needed for this type of job.
Design of the Scoreboards
The client requested me to design basketball scoreboards in three distinct visual styles which ScoreOS users would be able to select to their preference. We decided I'd make these styles:
Classic: Emulates the look of a typical physical scoreboard as seen in most basketball arenas. (Screenshot shown above.) Uses mock LED panels and glowing and shading effects.
Wood: Mostly similar to the classic style, except the board of the scoreboard has a wood paneling texture, mimicking the surface of a basketball court.
Virtual: An abstract, non-skeuomorphic style using simple geometric shapes.
In addition to all the scoreboard styles, I also had to make the scoreboards adaptable to three differently sized views. This means I ended up creating for ScoreOS a total of nine separate basketball scoreboards, one in each style and in each view.
The three scoreboard views are as follows:
Full view
Uses a full HD resolution (1920×1080 pixels) and shows all the scoreboard components which include:
Game clock
Home/guest team scores
Game period
Poss (possession) indicators
Home/guest T.O.L. (time-outs left)
Home/guest bonus indicators
Ribbon view
A shorter scoreboard view that's the same width as the full view but one-fourth its height (1920×270 px). Due to the ribbon view's more compact space compared to the full view, the T.O.L. and bonus indicator components are removed.
Originally, the ribbon view was intended to be one-third of the full size scoreboards' height, but later we realized it was a little too tall, so I redesigned it to be one-fourth height instead.
Bug view
A tiny scoreboard view (360×203 px) that has only the game clock and home/guest score components.